The ARIANNA model is a mechanical in-line seeder for minimum tillage seeding. The units are arranged in three rows to minimize soil clogging and the potential presence of crop residues. The machine is also suitable for steep terrain and can be used as a mounted or trailed seeder.
The distributor roller is divided into three sections for small and large seeds.
The closing shutters of the outlets are equipped with three positions to adjust the quantity of seed released from the hopper.
The continuous 3-cam oil bath gearbox ensures a constant and uniform power transmission, allowing for a simple and precise seed distribution.
The seed level indicator allows the operator to easily monitor the quantity of seed remaining inside the hopper.
SPRING-LOADED FURROW OPENER
Suitable for coarse, clayey, and rocky soils with low presence of crop residue. The adjustable spring load allows the implement to adapt to different soil conditions.
It is suitable for seeding in any type and moisture level of the soil, even in the presence of crop residue. The rotation of the disc prevents the dragging of residues.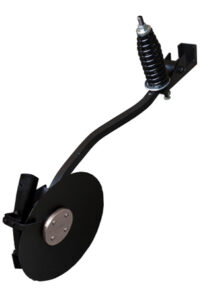 Indicato per terreni grossolani, tenaci
e sassosi. Il movimento della molla
a doppia spira permette una semina
precisa e in sicurezza anche su terreni
particolarmente dissestati.